Spring Luncheon
5/1/2017
Let's celebrate the family!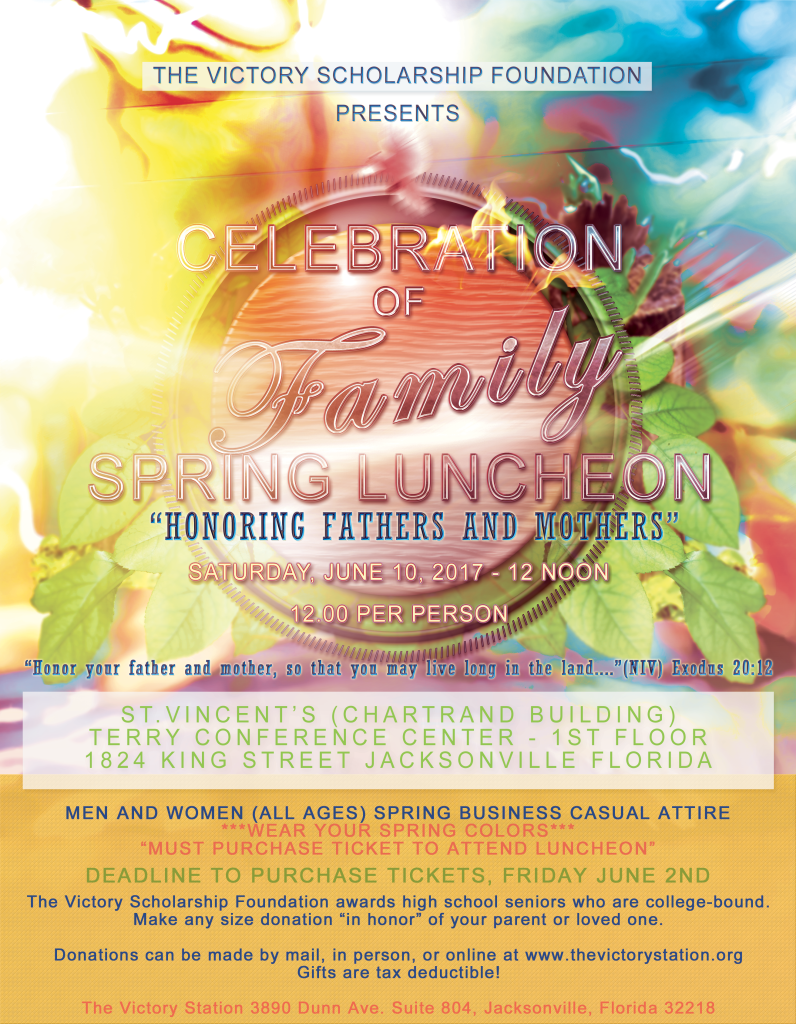 The Victory Scholarship Foundation presents the first Celebration of Family Luncheon – Honoring Fathers and Mothers!
This year, we are combining two very special causes into one amazing event:
For just $12.00 per person, you can be our guest at the luncheon celebrating Mother's Day and Father's Day on Saturday, June 10th at 12 noon on Jacksonville's Riverside area in the St. Vincent's (Chartrand Building) Terry Conference Center – 1st floor – 1824 King Street, Jacksonville, FL.
Wear your spring business casual attire! Enjoy a comedy fashion show, gifts, a delicious lunch, and more! All ages are welcome with the purchase of a ticket!…
…and #2….
We appreciate any size *donation to sponsor a college-bound high school senior! Name your donation
"in honor of"
or
"in memory of"
a parent or loved one!
*Tax – deductible gifts of $150.00 or more will receive on-air mentions on 
The Victory Station AM 1360 and FM 94.7! 
To purchase tickets or to make a donation, call 904 – 766 – 9955 or pay online at
www.thevictorystation.org
. Mail checks or money orders to: The Victory Station, 3890 Dunn Ave. Suite 804, Jacksonville, FL 32218.
For questions, email
info@thevictorystation.org
.
[RETURN TO HOME PAGE FOR DONATION ONLY]
Thank you in advance. We appreciate your support!
The Victory Scholarship Foundation Team
Humbly Submitted,

Deborah L. Maiden, General Manager